The Deep Port has been developed over more than ten years with major investments. The Deep Port, where about 7 million tons can be handled annually, is specialized in handling bulk cargoes.
DARK BULK AND POWERFUL DEVELOPMENT
Dark bulk cargoes, such as iron pellets, concentrates, coal, peat, pyrite and iron oxide, are handled in the Kokkola Deep Port. The annual handling capacity of the Deep Port is about 7 million tons, and at present it accounts for about 70 % of our total cargo traffic. The main development of the Deep Port project, which was initiated in the beginning of the 1980ies, has taken place as from 2000. To date, 1.1 km of new quays, 26.4 ha of new storage fields, 35,000 m2 of new covered storage facilities, 7 new cranes and a comprehensive conveyor system for loading and discharging vessel, have been constructed.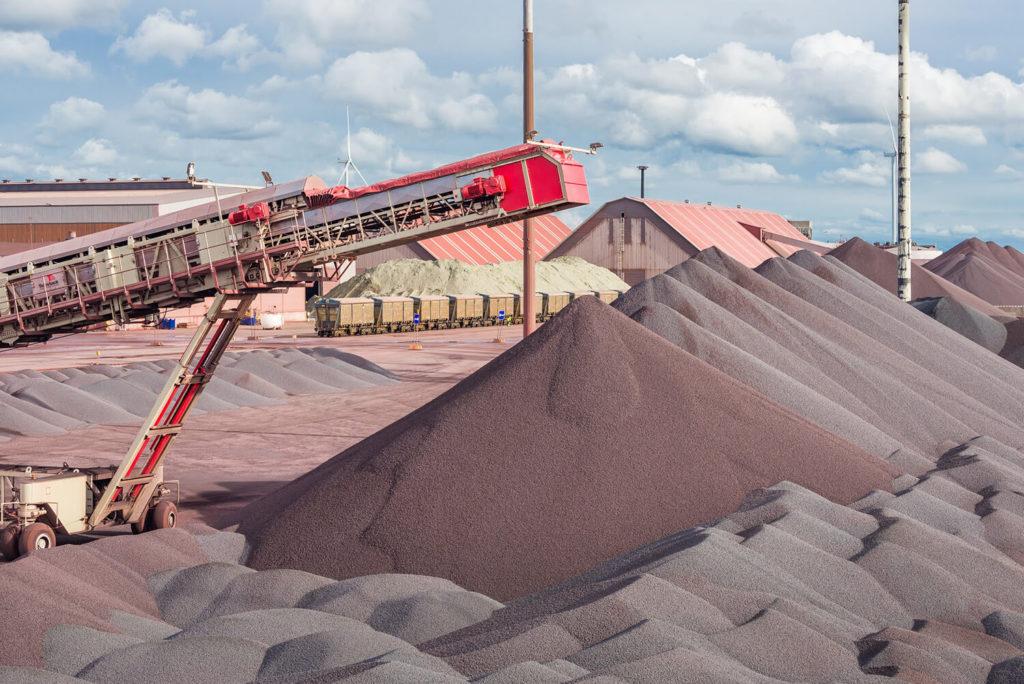 DEEP-WATER ROUTE
Our investments in a deep-water quay and fairway bring considerable savings in our customers freight costs. The 14 m deep fairway into our Deep Port allows also Panamax and Cape Size class vessels to call the port. In 2020 the deepening of the fairway to 14 m makes it possible to load even the biggest of these vessels up to maximum capacity. This will result in considerably lower freight costs.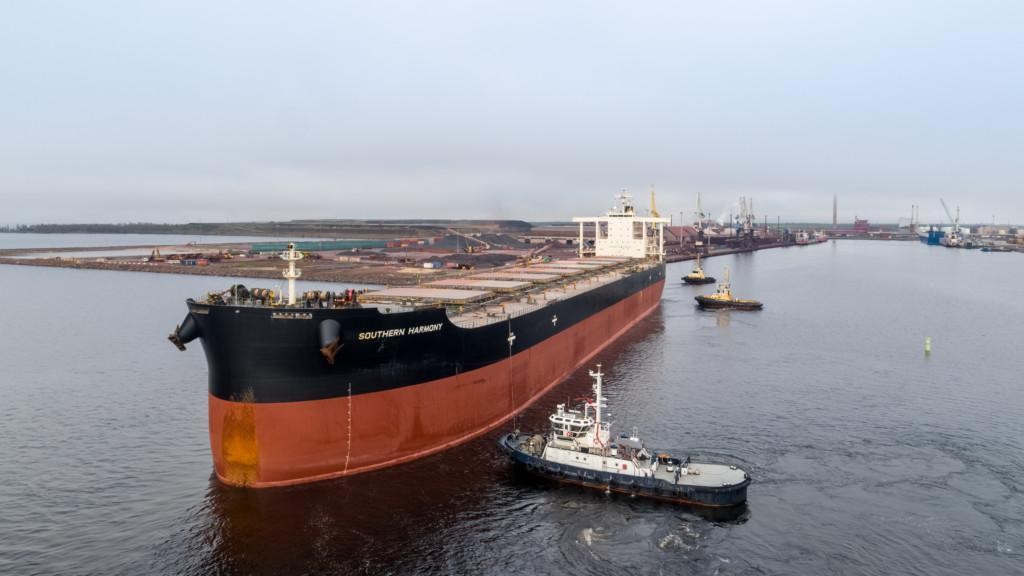 EFFICIENT LOADING AND DISCHARGING SYSTEM
Dark bulk in combination with large vessels and big cargo loads requires efficient loading and discharging systems. The loading methods in our port are unique in Finnish conditions. The efficient 40 and 50 ton lifting capacity cranes and modern and efficient cargo conveyor systems provide high speed cargo handling in the port. Up to 40,000 ton can be loaded and/or discharged in 24 hours. At best a Panamax class vessel can be fully loaded in less than 48 hours. Major investments in cargo conveyor systems and storage solutions ensure sufficient capacity, and it can easily be increased, if needed.
Railway tracks lead directly into the heart of the Deep Port, where the only Rail Wagon Tippler Terminal (RWTT) in Finland is located. Through the RWTT train sets can be discharged at an hourly speed of up to 1,500 ton. The RWTT also contributes to the environment friendliness of the port by reducing dust formation during handling.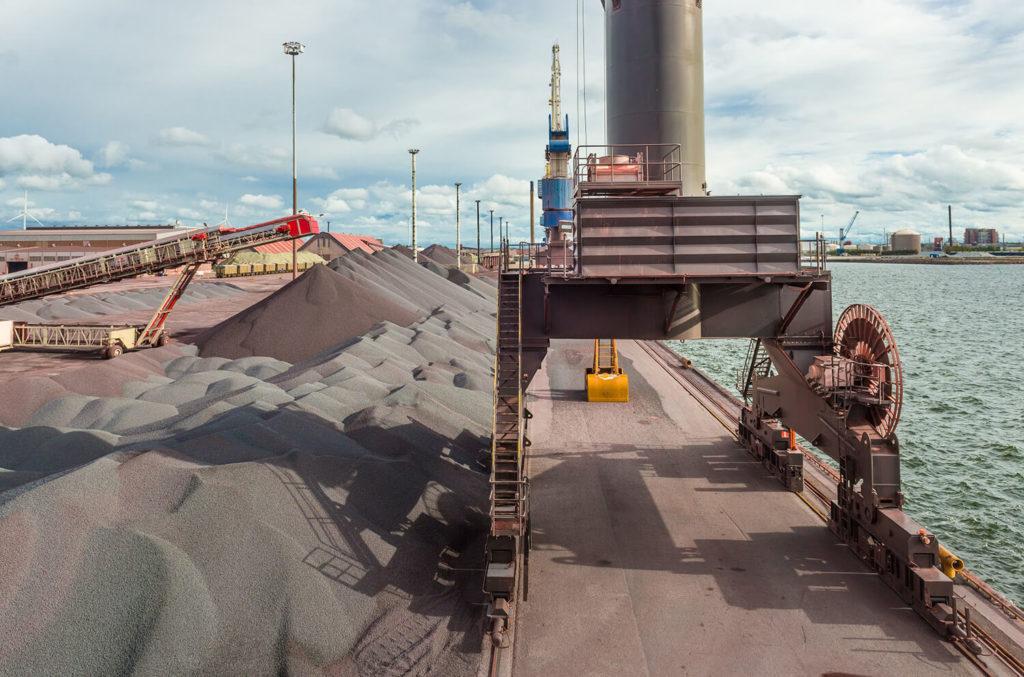 Deep port webcam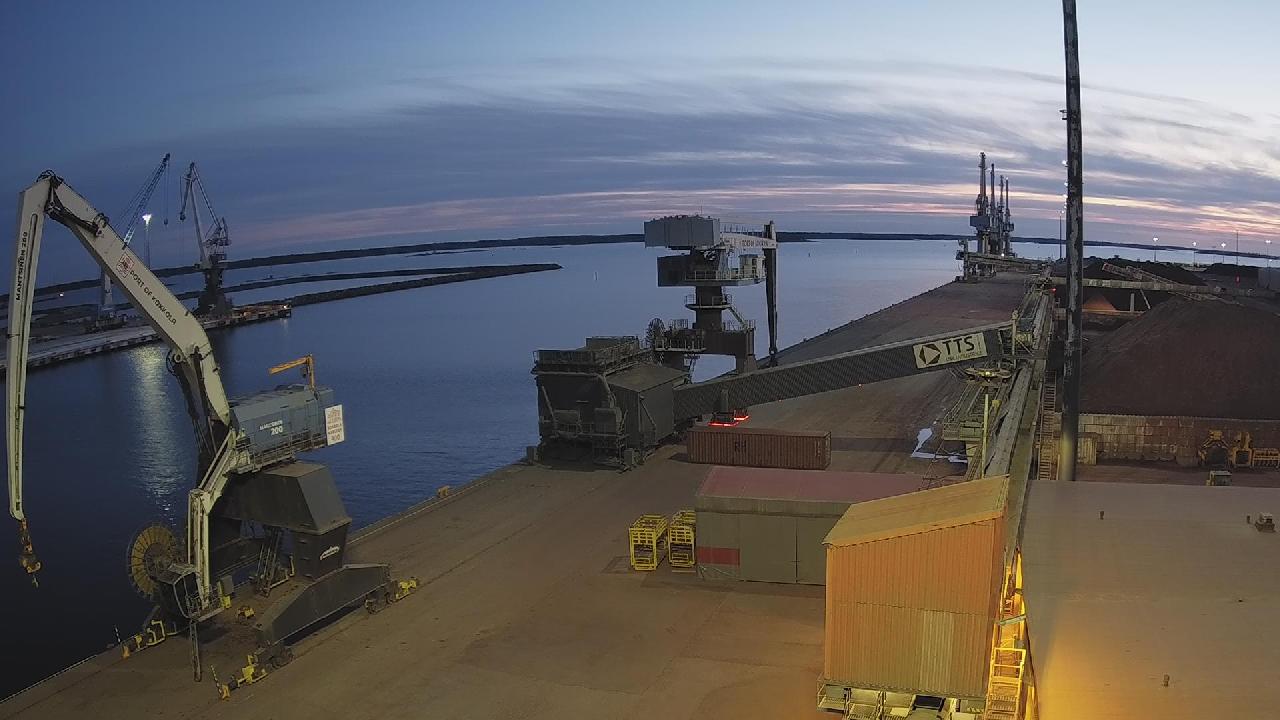 Quays

1 266 m

Cranes

8 kpl

Warehouses

35 000 m²
Deep Port Quays
Length
Depth
Chemicals Quay (7)
140 m
9,5 m
Boliden Qua (8)
100 m
9,5 m
Deep Quay (9)
180 m
11,0 m
Deep Quay (10,11,12)
626m
13,0m
Total
1 266 m
Deep Port Cranes
Hoisting capacity
Mantsinen 200 ES
Mantsinen 120 ES
Nora
28 ton
Transporter loader
n. 1000 ton/h
Atlant 1
40 ton
Günter
40 ton
Sven
50 ton
Karsten
50 ton
Atlant 2
40 ton
Deep Port Warehouses
The Year of Construction
Area m²
Type
Facilities
Warehouse 1
1989
4 920
Warehouse
Conveyor for bulk cargo in the warehouse / dry bulk
Warehouse 2
1990
4 920
Warehouse
Conveyor for bulk cargo in the warehouse / dry bulk
Warehouse 3
1990
4 920
Warehouse
Conveyor for bulk cargo in the warehouse / dry bulk
Warehouse 4
1995
9 050
Terminal
Railway tracks inside the terminal/dry bulk, general cargo
Warehouse 5
1998
6 710
Terminal
Four separate compartments. Isolated warehouse.
Warehouse 6
2007
5 000
Warehouse
General cargo
Total
35 000
G-4ZN8NKFKBQ