Carita Rönnqvist on 1 August retired from her duties
An era came to an end in Port of Kokkola when Carita Rönnqvist on 1 August retired from her duties as Harbour Master, a position she held for 18 years.
"I retire from my employment at Port of Kokkola, but not from the industry, because I shall continue executing certain honorary tasks. I am a bit sad, but on the other hand I am very pleased with how my professional life has been. Port of Kokkola has been a fantastic workplace, as is the industry as a whole, with clients and many stakeholders", Carita Rönnqvist says.

When Carita sums up her almost two decades, the first things that come to her mind are the strong growth and development that have made the port complex of Kokkola an internationally significant actor.
"When I started in 2004, Kokkola was still a fairly small port, but the AWT (All Weather Terminal) was already constructed. It is still the only one of its kind in the Nordic countries. One of my first tasks was in relation to the ISPS system; inviting tenders for the fences and gates, including the access control equipment.
After that a lot has happened. "The new Satamatie (Port road) for heavy traffic into the Port was taken into use and the Port Tower, serving the needs of the Kokkola Industrial Park (KIP) was also an important investment. Port of Kokkola acquired, as the first port in Finland, a railway wagon tippler discharging equipment", Carita lists as a few examples.
"In 2010 Kokkola was the biggest transit traffic port in Finland, and it is still the biggest bulk cargo port in the country. At the same time investments have been made in quays, storage areas and cranes. Port of Kokkola also changed first from a municipal harbour to a public utility company, and later to a limited company. At a certain stage other national ports began to show interest in what was really happening in Kokkola", Carita laughs.
Over the years Port of Kokkola has developed its functions. The management group, in which Carita Rönnqvist is a member, has been crucial to the development, and it has been composed of the same members during the whole time that Carita has been employed the Port. According to her, one visible result of the growth and development has been the increase of the size of ships calling the port. The largest vessels in the port of Kokkola have been of more than 180,000 DWT.
In addition to the infrastructure, Port of Kokkola has invested in quality. When the first quality system was introduced in Port of Kokkola, Carita Rönnqvist was, at that time, the person responsible for quality. In the last few years Port of Kokkola has been a pioneer for promoting digitalization.

When Carita started her employment at Port of Kokkola she initially had the title Traffic Chief and was responsible for the traffic of both ships and land vehicles. When she took over the position as Harbour Master she concentrated on ship traffic alone, although that sector had already been her responsibility for some time.
During her career Carita Rönnqvist has had one important aim – networking. It has brought with it several honorary positions, such as the chair of the Safety Working Group of the Finnish Port Association. Carita Rönnqvist also contributed to Port of Kokkola becoming a member of the Dry Bulk Terminals Group (DBTG). DBTG is, for example, an adviser to the International Maritime Organization or IMO.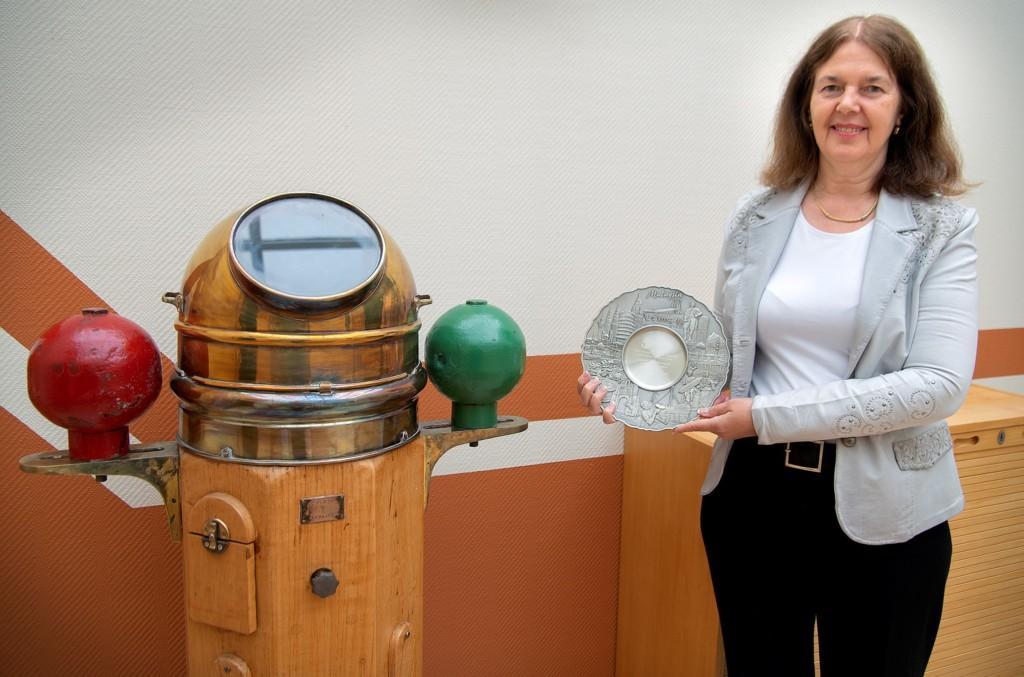 Carita Rönnqvist received a pleasant recognition for her activities at the congress of the  International  Harbour Masters' Association in Malaysia in June. There she was awarded the biannual recognition prize for, in her case, her extraordinary successful activities as harbour master and almost forty years of influencing in the industry.

"I could not even imagine that this kind of honour would befall me, because I knew how strong merits this prize had previously required. The value of the recognition is increased by the fact that it  was awarded by my colleagues."

Carita Rönnqvist will make use of her vast experience and knowledge for another two years as a member of the board of IHMA and possibly in other working groups. But she also expects to have more free time.
"I plan to travel, and time together with my two grandchildren are really important to me. I shall continue to offer lodging services in Jakobstad, Helsinki and Zell am See in Austria, and I shall work in my husband's company, where I also am a part owner."
"I wish to extend my warmest thanks to my colleagues at the work, to the clients and to all of you with whom I have had the pleasure work. These years have really been interesting and inspiring."